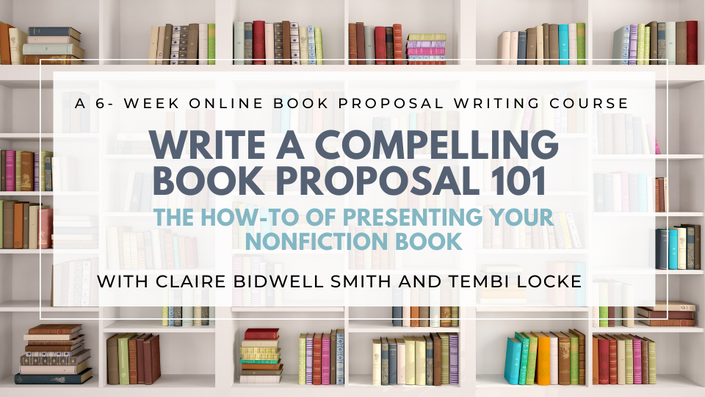 Write a Compelling Book Proposal 101: The How-To of Presenting your Nonfiction Book
A 6-Week Book Proposal Writing Class
Join New York Times Best-Selling authors, Tembi Locke (From Scratch) and Claire Bidwell Smith (The Rules of Inheritance, After This: When Life Is Over Where Do We Go?, and Anxiety: The Missing Stage of Grief) for a self-study, online course on nonfiction book proposal writing for individuals at any level.
There has never been a better time to work on a book proposal!
Tembi and Claire created this 6-week course to share what they have learned through writing and publishing their books. The goal is to help you jumpstart, further or complete your own book proposals. This course is for beginners and more experienced writers.

You can be brand new to book proposal writing or already have a complete proposal in hand. We will cover the full spectrum of this process, and leave you feeling confident to take your proposal to an agent! We will cover everything from structure and writing a compelling author bio, to sample chapters, query letters and how to query an agent.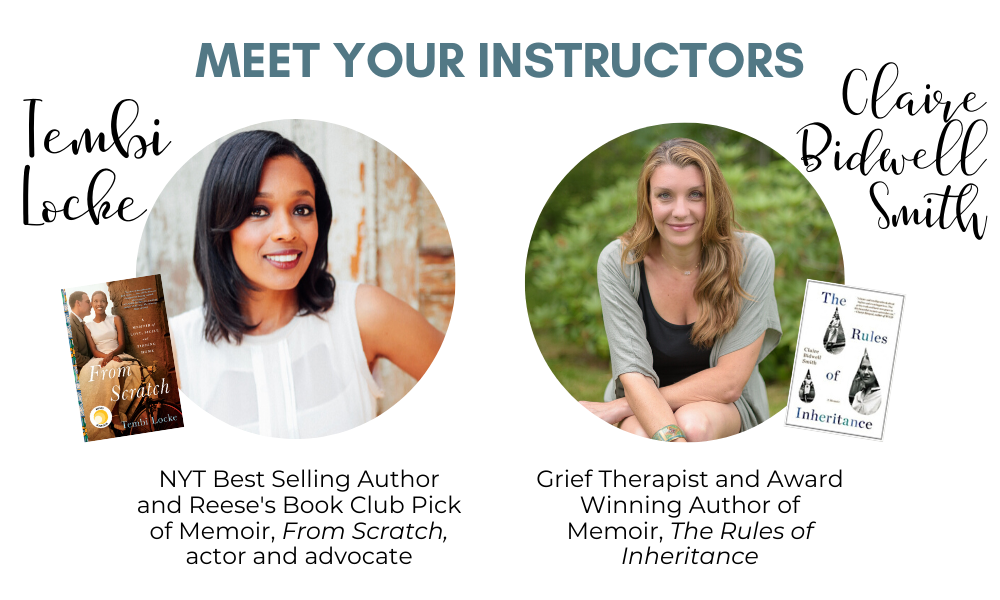 This self- study course will also include FOUR special guest instructors: Christine Pride, Adrienne Brodeur, Wendy Sherman and Jennifer Tracy.

Christine is a writer, editor and 15-year publishing veteran, working as an in-house editor at various Big Five imprints, including Doubleday, Broadway, Crown, Hyperion, and, most recently, as a Senior Editor at Simon and Schuster. Christine has also worked independently, contracting with publishers, agents and writers for editorial work, content development and ghostwriting. She brings an immense amount of value to this course with real world advice on what an editor looks for in a book proposal. (Fun Fact: Christine was Tembi's editor for From Scratch!)

Adrienne is the author of award winning memoir, Wild Game: My Mother, Her Lover and Me (Amazon's #1 Best Memoir of 2019, People 10 Best Books of 2019, Real Simple Best Books of 2019). Adrienne has spent the past two decades of her professional life in the literary world, discovering voices, cultivating talent, and working to amplify underrepresented writers. She is now the Executive Director of Aspen Words, a literary arts nonprofit and program of the Aspen Institute.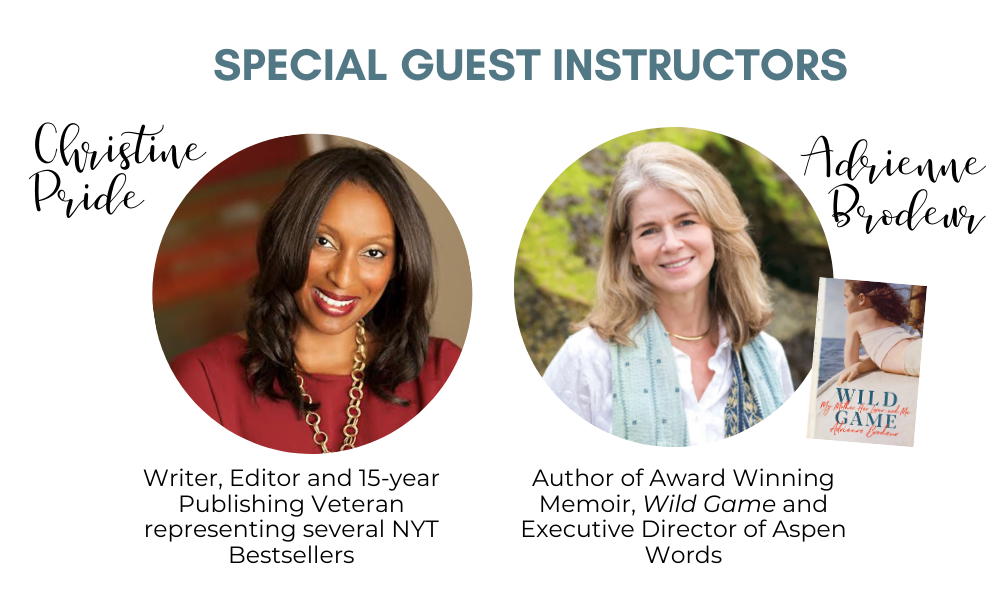 Wendy has been in publishing more years than she cares to admit. She has held senior, executive positions at Simon & Schuster, Macmillan, and Henry Holt. During her time at these major publishing houses, she worked in the areas of subsidiary rights, marketing, sales, and editorial. With a desire to work more closely with writers and help develop their careers, she founded Wendy Sherman Associates Literary Management in 1999. Wendy is on the Board of Directors of the Association of Authors Representatives (AAR) and a member of The Women's Media Group. (Fun Fact: Wendy was Claire's literary agent!)

Jennifer is a veteran writer, producer, and content creator. She received her degree in Screenwriting from Boston University, and also studied cinema in specialized programs in Australia and France before moving to Los Angeles. Working in TV and films for 30 years has deepened her skill set, as well as 10 years of conservatory-level improv performance, writing scripts for TV and film, self-publishing a series of novellas on Amazon and more recently finishing her first novel.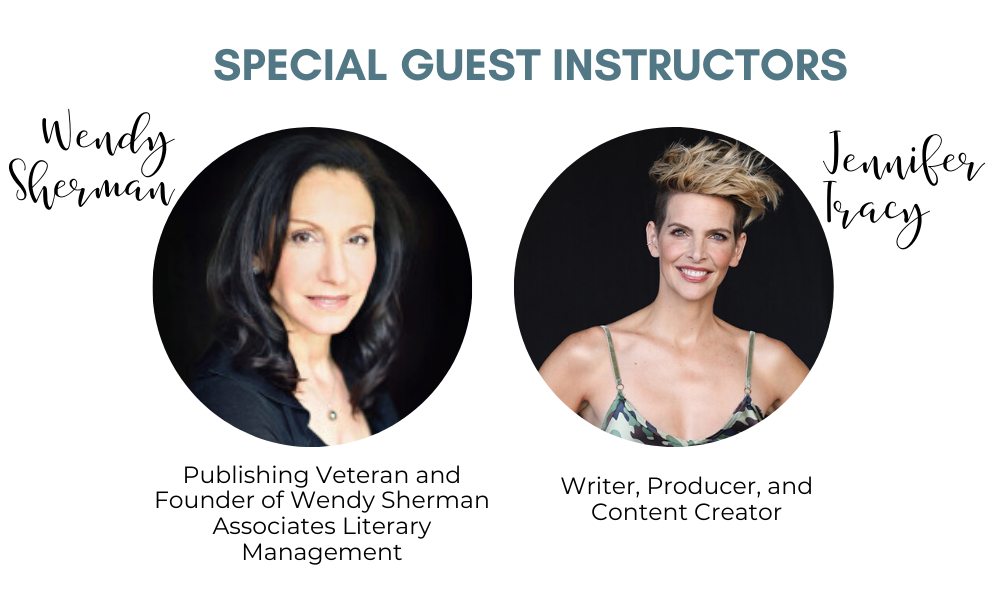 Topics covered during the course:

What is a book proposal? (Going over all the basic components)

Author bios and comp titles

Publicity and promotion section

Chapter Outlines

Sample Chapters


Query letters and querying an agent
You will have lifetime access to this self study course to refer back to as needed for years to come!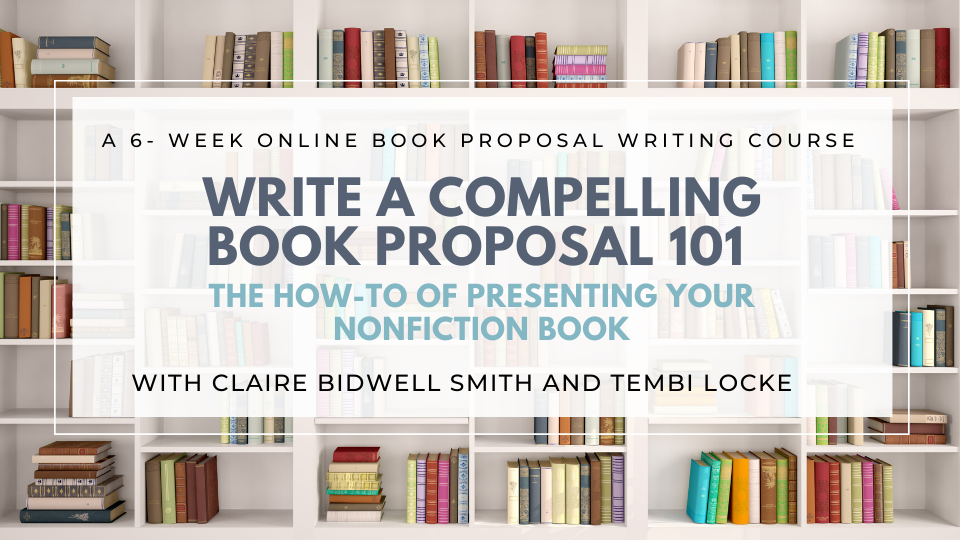 During this self-study course you will receive:
Six 1-hour audio teaching calls with Tembi and Claire (four teachings will include special guest instructors)
Weekly assignments that align with the topics covered during the teaching calls to propel your book proposal forward
Mid-week check-in discussion posts to help you stay on track as your move through this course at your own pace
A printable course pdf guiding you through your assignments
Private Online Classroom with course materials
Frequently Asked Questions
When does the course begin?
You will gain access to this self study course immediately after purchase.
How long do I have access to the course?
How does lifetime access sound? After enrolling, you have unlimited access to this course for as long as you like - across any and all devices you own.
If you have any questions please email [email protected] or [email protected]
Hear what past students are saying about the course...
"This course will light the fire, it will give you not only the tools and resources but the confidence, drive and cheerleading you need to cross the finish line. You will be reminded (if you need it) each week - you're a writer! So get writing!"
"As a veteran of several extension style writing courses and an MFA program, this self-directed, non-workshop class was perfect for me. I can work at my own pace, retain access to the course materials forever, and get the information I needed on changes in the publishing industry since the last time I put work out (more than 10 years ago!). I loved not having to read anyone else's work or share my own! Been there, done that. It was so cost-effective and time-efficient. I heartily recommend it to anyone interested in writing a non-fiction book or even just wrapping their heads around what that book might involve."

"I was on the final draft of my book proposal and this course helped carry me over the finish line. Claire and Tembi are kind, smart and generous with their resources and friends. I can't recommend this course enough. It's time well spent on a Saturday morning!"

"Even if you're not ready to go to publishers yet, this course contains VITAL information that will help you write with intention and purpose. This re-framing is incredibly helpful to the storytelling."