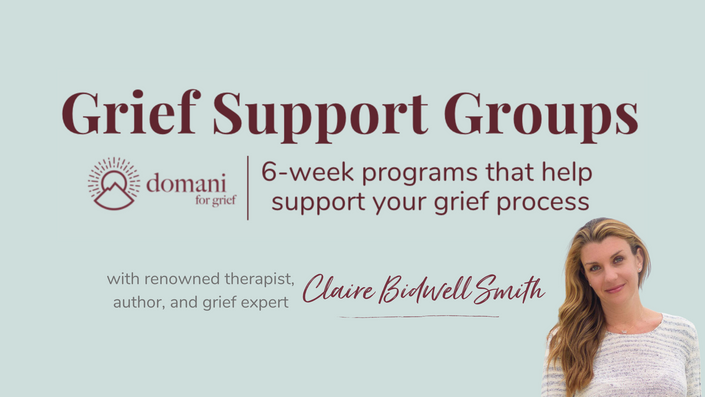 Grief Support Group: Parent Loss
A six-week virtual support program

Grieving can be an isolating experience, but it doesn't have to be. Claire Bidwell Smith is proud to partner with Domani for Grief to provide the kind of support and community that is so very helpful after loss.
Losing a parent is a deeply significant loss. The death of a mother or father can bring on feelings of instability, fear, intense sadness, and even identity crises. How do we move through this difficult experience without the person who has always been part of our support system? Or how do we sift through the tangle of emotions and unresolved issues when we have had a complex relationship with our parent? Explore all of this and more with others who are experiencing a similar loss in a healing setting where you can find support for your grief process.
Beginning May 3rd, the Parent Loss support group will meet on Mondays at 10am PT / 1pm ET for six weeks.
*Memorial Day: We will meet on Tuesday, June 1st instead of Monday, May 31st*
During each 1-hour Zoom gathering, Claire will:

Reveal ways to navigate and better understand grief

Share effective coping strategies for managing loss

Provide opportunities for sharing your grief story and connecting with others going through a similar experience
Registration includes:
A weekly 1-hour online gathering via Zoom for 6 weeks
Weekly emails from Claire with audio meditations, journal prompts, and helpful resources
A private Facebook group for ongoing community support
Downloadable PDF of Claire's 50-page anxiety workbook
Access to video recordings of Claire's weekly group teaching.

Please note, in order to respect the confidentiality of all group members, participant conversation will not be included in the recordings.
Important: Please be sure to opt in to receive emails when registering in order to receive group updates and a weekly email with resources!
"I cannot imagine a better grief therapist than Claire Bidwell Smith. She has the ability to wrap her deep psychology background and understanding of frameworks for dealing with grief in an intimate and soft discussion that makes the client feel incredibly well supported. Perhaps as a result of her own losses, she becomes a partner in going through the process of grief with the person experiencing deep loss, and not just a medical professional. As a result, she has significantly advanced my ability to brave the storms of grief and even to see some of the beauty that it yields as well. I am forever indebted." -- Jaime, Los Angeles
Course Curriculum
Weekly Gatherings: Participant questionnaire, Zoom links, and group materials can be found here.
Available in days
days after you enroll
Frequently Asked Questions
When does the group start and finish?
The Parent Loss support group begins on May 3rd and meets weekly until the final meeting on June 7th.
How long will I be able to access the group materials?
You will be able to access the group materials, including video recordings of Claire's teachings, for as long as you'd like - across any and all devices you own.
What if I miss a Zoom meeting?
Video recordings of Claire's weekly group teaching will be available in your account. Please note, in order to respect the confidentiality of all group members, participant conversation will not be included in the recordings.
Are refunds available if I'm unhappy with the group?
We would never want you to be unhappy! Please contact us at
[email protected]
within 30 days of purchase to request a full refund. We are unable to process refunds after 30 days from the purchase date.
This course is closed for enrollment.
Finding a supportive community is so important. Click to learn more about Claire's support groups for individuals grieving the loss of a child, spouse/partner, or relative/friend.