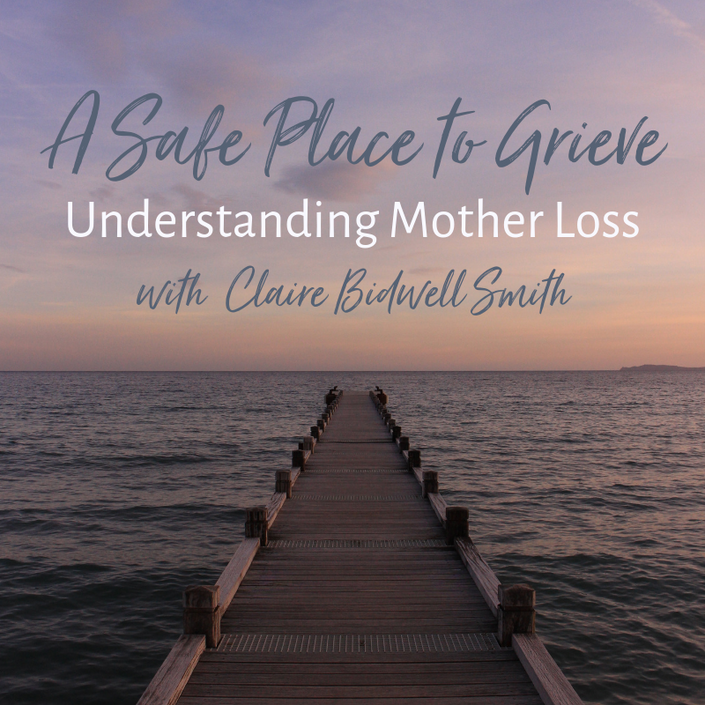 A Safe Place to Grieve (March 2019)
Understanding Mother Loss
Registration is closed.
In the Understanding Mother Loss course we are going to be diving into what it really means to lose a mom.
Losing a mother is one of the most profound experiences we can have in our lifetime and it is largely misunderstood by our culture. If you are feeling alone in your loss and like you don't know why you are struggling so much with your loss, then this course is for you.
I lost my mother at age 18 and struggled for years to understand why it was so hard for me. Through education, experience, and community, I came to realize that even when your loss is recent or years ago - the death of a mother affects us at a profound level. Losing our mothers affects our sense of identity, our relationships with others, our confidence, and our overall sense of place in the world.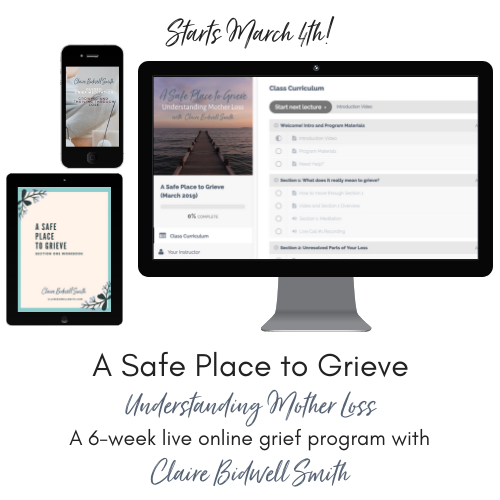 Is your answer "yes" to any of these questions?
Do you feel stuck, as though you don't know how to move forward in your life following the death of your mom?
Do you want to find a way to get to the other side of your grief without feeling overwhelmed?
Do you want to feel more supported, understood, and grounded?
These are the reasons I created this program—I want everyone to have access to the tools I use to get my clients through these challenges.

Think of this live experience as a retreat you can attend from your own home. Over the course of six weeks, I'll be supporting you through live video calls and a private online discussion forum (not on Facebook!). And it's OK if you can't make it to all the calls—everything is recorded so that you can take it in on your own time.
You will come away from this course with a new understanding of your grief process and also with the feeling of being understood and no longer alone in your loss. I hope you'll join me!
Registration is closed.
Here's what people have to say...
"After reading Claire's books, attending a Motherless Daughters retreat, participating in a one-on-one session, and taking an online class, I can say without hesitation that her guidance has provided a pivotal moment in my journey through deep grief toward healing. Her advice is practical and existential all at once. She is so completely honest and transparent, and made me feel understood in a way no one else had."

-Nicole
"Joining an online grief group felt quite scary, and I appreciated Claire's ability to meet each of us where we were, to hold space for the unique people we'd lost, and to help us feel like we weren't alone. Even though we were grieving different relationships with different timeframes, I felt a real sense of belonging, connection and hope. Thank you, Claire."

-Jessica

"Thank you so much for offering the Safe Place to Grieve course! I have been following your work for over a year and I was over the moon excited to be apart of the course. I really enjoyed the program materials. I especially loved the writing assignments which allowed me to journal again. The weekly meditations were something I looked forward to since we all can use some form of meditation in our lives. I must say my absolute favorite part of the course was being able to see and talk to you during our weekly sessions. I loved having that one on one attention when I asked a question and hearing everyone else's stories to know that I am not alone. I really appreciate all the work you all put into the course from having each week dedicated to something specific. Thank you again for everything you have done for loss, especially mother loss. Keep up the great work you are doing!"
-Angie
"Hi Claire, I wanted to thank you again for this course, it was so helpful. Prior to it, I honestly thought I had made some improvement, but working through everything this go around, I had some small shifts take place that really helped me see I was indeed stuck. While going through the work, I was able to move past a few things. Even the regret I felt earlier and posted in one of the discussions feels different now. The suitcase I'm carrying around (that you refer to in the Anxiety book) feels a little more balanced and easier to carry. Thank you for that."

-Amy
Your Instructor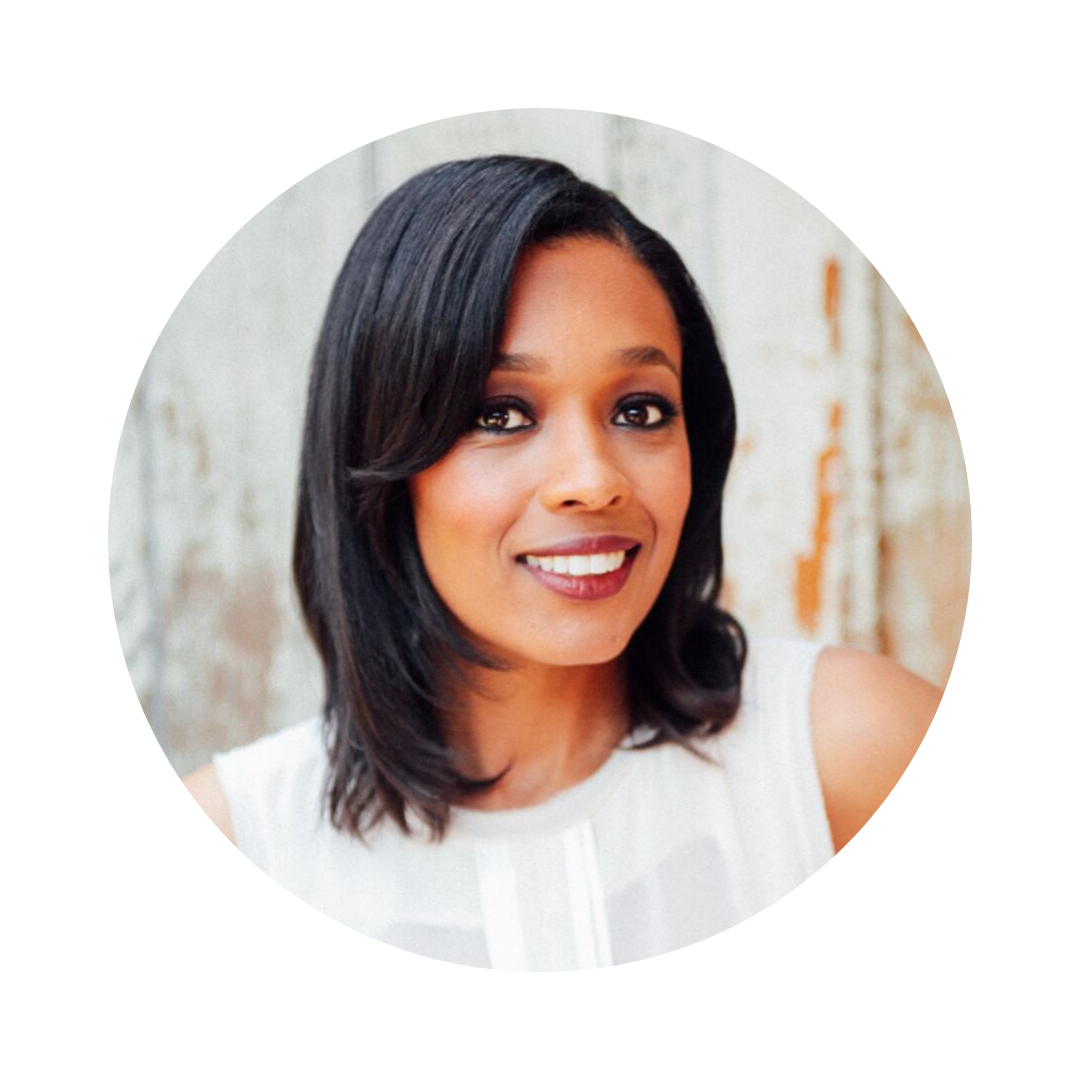 Tembi Locke is an actress, advocate and New York Times Best Selling Author and Reese's Book Club Pick of memoir, From Scratch.
Here are some features of the 6-week live course experience...
Weekly Videos Focusing on my Five Branches of Grief Healing
Program Workbook
Meditation Journal
Five Guided Audio Meditations

Live Weekly Group Video Calls (and recordings if you can't make it to the call)


Private Discussion Board with topics posted 1-2 times per week
Frequently Asked Questions
When does the course start and finish?
The 6-week live course starts March 4th and you will continue to have access to the course after the live experience ends.
How long do I have access to the course?
After enrolling, you have unlimited access to this course for as long as you like - across any and all devices you own.
What if I am unhappy with the course?
Full refunds are available until the first day of the live course.
What if I can't make it to a live call?
Don't worry! We will send you the audio recording for all of the live video calls.
What platform do you use for the live video calls?
We use Zoom for our video calls, which is free and easy to use/download. You can also call in, but the video is a really special part of the group.
When are the live video calls?
We want to accommodate as many people as possible, so we're going to have two 6 pm weekday calls, two 11 am PT calls, and two weekend calls spread over the 6 weeks. We don't have the exact dates yet, but we want to distribute the times and days so that we can include as many participants as possible.
What aspects of this course are "live"?
We will gather weekly on a live video call to discuss the focus of the week and your reflections and questions. Between calls, I will post a couple of discussion topics in the forum. This is a space to share, connect, and support each other throughout the live portion of the course and beyond.
This course is not open for enrollment.